2013 Leadership Institute Summit: Outdoor Leading, Upward Thinking
Friday, October 18, 2013, from 5:00pm to 2:00pm

Follow up Monday, November 18th 6:00pm- 9:00pm
$15 Registration Fee
The MSU Leadership Institute's annual Leadership Summit, Outdoor Leading, Upward Thinking promises a tremendous opportunity to affect positive change in student leaders at MSU.  The conference provides time for leadership vision activities so that students may think deeply about how their personal vision may also support the greater good. Students will gain an understanding about how to work with diverse teams to solve complex challenges and to be more thoughtful and more durable leaders by learning how to tap into their own excellence as well as the excellence of others.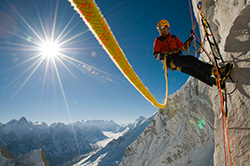 Conrad Anker to keynote 2013 Summit
Conrad Anker, leader of the North Face climbing team and founder of the Alex Lowe Charitable Foundation, will be the keynote speaker for the program. Anker has summited a number of challenging mountains, and currently runs a program teaching Sherpa in Nepal climbing fundamentals, to lower the instances of Sherpa deaths on Everest.
Outdoor Leading, Upward Thinking is a unique opportunity to meet highly successful professionals from a variety of fields, such as Anker and others, while learning and building on leadership skills over exciting games and activities.  From paintball to capture the flag, students can expect an experience that is both enjoyable and invaluable.
A follow-up dinner and training session will be held on Monday, November 18th for participants of the Summit to discuss how they have taken what they learned back into their communities.
Food and lodging are included. Registration is now closed.
This leadership program is sponsored by:
For questions regarding this event, please contact: