2014 MSU Freshman Convocation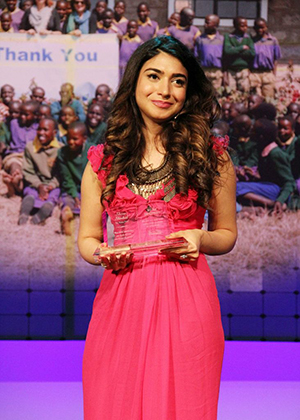 Photo courtesy of the Malala Fund.
This is your opportunity to meet peers, connect with faculty and staff, and listen to the inspiring words of Shiza Shahid, the co-founder and CEO of the Malala Fund and right-hand woman to Malala, the Pakistani schoolgirl who was nearly killed by the Taliban for her desire to get an education.
How do you value your education?
In a few weeks, you will begin a journey at Montana State University that will transform you and launch your future. Everyone on such a journey, a college education, faces challenges. For some, the obstacles test the most extreme limits of determination and will.
Imagine that you were prevented "by law" from getting an education. What would you do?
Malala Yousafzai is from the town of Mingora in the Swat District of Pakistan's northwestern Khyber Pakhtunkhwa province, an area where women and girls are barred from schools and universities. Risking her own safety, she stood up for her right and the right of other girls to receive an education. Last year, Malala survived an attempt to silence her voice and an attempt to take her life. She now lives in England with her family.
When Shiza Shahid, also a native of Pakistan and a graduate of Stanford University, heard about the assassination attempt on her friend, she rushed to Malala's side. Shiza helped Malala's family manage the media blitz and the growing global interest in Malala and her story. Malala, her family and Shahid came up with the idea to establish a fund in Malala's name that would be used to educate girls and women. Known as Malala's "right-hand woman," Shiza Shahid has been named to both TIME and Forbes magazines' "30 Under 30" lists, which recognize young adults already changing the world. She has also been profiled in Entrepreneur magazine.
What better way to begin your first day as a student MSU than spending an evening with Shiza Shahid as she discusses the transformative power of education and the valor shown by those who treasure its value.
Disabled students wishing to request an accommodation may contact 406-994-2824.