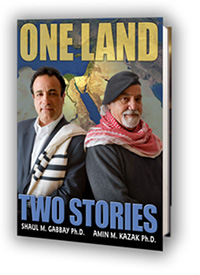 Monday, October 8th in the SUB Ballrooms
Time: 7:30 pm
Doops open at 7:00pm
This event is free and open to all!
Two professors - an Israeli Jew and a Palestinian Muslim - deliver narratives from both sides of the conflict in their region. Dr.'s Gabbay and Kazak have dedicated themselves to bringing to light the true causes for unrest in the Middle East. Together they published the book One Land Two Stories, which offers stunning insights into the rich history and events which have shaped political and social unrest in their region.
Join the MSU Leadership Institute in welcoming these two incredible educators to MSU for a lecture event. Expect a lively and informative evening from Gabbay and Kazak as they are world class lecturers with years of experience teaching. The authors have established a close friendship without denying their opposing viewpoints, and convictions. Where governments repeatedly fail, their mutual respect succeeds.
Attendees will be fascinated by the unique delivery of their complex subject matter through the authors' historical perspectives coupled with their personal stories. History will come alive through these two men whose lives have been directly affected by the on-going Middle East conflict. Whether a novice, desiring the ABC's of the Israeli-Palestinian conflict, or a seasoned student of history, this event promises deeper understanding of conflict in the Middle-East and why a peace agreement remains elusive.