Education, Philanthropy and Civic Engagement with Charles Best
Doors open at 6:45pm
Free MSU parking after 6:00pm
Educator and entrepreneur, Charles Best leads DonorsChoose.org, an online charity connecting classrooms in need with donors who want to help. Find out how Best went from teaching in his own classroom in the Bronx to impacting more than 6.6 million students in America and has currently distributed over $165, 000,000.  Today teachers at half of all the public schools in the nation have had at least one teacher post a project to DonorsChoose.org, whose supporters include board members Stephen Colbert and Bill Bradley, as well as Oprah Winfrey and the Bill and Melinda Gates Foundation.
Best was an elementary educator, who after teaching in the inner city Bronx for five years, decided that current models of philanthropy in education were simply not getting the job done. His passion to decrease national disparity in classroom tools and funding led him to create his own grassroots company, DonorsChoose, which has since become one of Fast Company's 50 Most Innovative New Companies.
Best started DonorsChoose from his classroom in 2000, marketing his charity through hand written letters before he could afford to hire a web designer. DonorsChoose asks teachers for specific needs within their classrooms that they are unable to gain funding and posts these needs to its website. Potential donors can go on DonorsChoose.org and choose what classroom projects they would like to financially support. When the quota for a specific project posting is met, the children involved send letters or pictures of thanks to the donors who raised the funds to make it happen.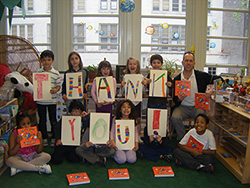 Since its inception, DonorsChoose has become the gold standard of direct-philanthropy in K-12 education in the United States, with 40% of public schools posting and receiving funding through its foundation. DonorsChoose has set the lofty goal of inspiring 1 million people to give $100 million to classroom projects from 100 percent of our country's high-poverty public schools and all in one school year. They are well on their way to achieving it.
In an interview with Forbes Magazine, Best noted that giving doesn't have to be motivated by the amount of money you have in your pocket, nor does it have to be impersonal. "Imagine someone with $10 finding a classroom project that speaks to them personally, seeing where their money is going and realizing that they don't need to be a millionaire to make a difference," Best said.
This event is sponsored by: ASMSU, MSU Leadership Institute, Office of the President, MSU College of Business, MSU Parent and Family Association, Jabs Center for Entrepreneurship, MSU College of Education, Health, and Human Development and Hopa Mountain
Learn more:
Read more: Founder of online charity that has raised $170 million for U.S. classrooms speaks March 5 at MSU