Sherrick Hall
Nursing majors study at MSU for two years then take their clinical training at extended campuses in Billings, Great Falls and Missoula or take training at Kalispell's satellite campus. There's a nice view of the arboretum and duck pond from the deck.
The College of Nursing headquarters was built in 1973. The southwest deck contains a bronze sculpture of Dr. Anna Pearl Sherrick who served as the first director of the College of Nursing, 1938-70.
Handicapped accessible
Upcoming events in the Sherrick Hall
Kelly Gregory will present "Evaluation of MSU CAM Health Literacy Scale with Older Rural Adults" as part of her master's thesis defense on June 2, 2015 in Anna Pearl Sherrick Hall, Room 103.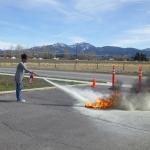 Learn how to operate a fire extinguisher, actually put out a fire, and what type of fire extinguishers you should use.