Cobleigh Hall
Cobleigh Hall is home to several Engineering departments including Chemical Engineering, Civil Engineering, Electrical Engineering, Computer Engineering and Biological Engineering. All of these departments contribute a great deal to our outstanding College of Engineering and there is a computer lab for student use located on the second floor as well. Many engineering labs are housed in Cobleigh Hall such as Sub-Zero Lab, Fluid Mechanics, concrete and building materials laboratories.
Cobleigh, built in 1970, is the high-rise building named for William Cobleigh who started teaching chemistry in 1894, then was dean of the College of Engineering and acting president 1942-43.
Handicapped access at the west door
Upcoming events in the Cobleigh Hall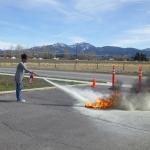 Learn how to operate a fire extinguisher, actually put out a fire, and what type of fire extinguishers you should use.