Cheever Hall
Cheever Hall includes labs, studios, classrooms, workshops and the Creative Arts Library. Architecture student projects often are displayed in the main floor lobby. Outside the south door of Cheever is another portion of the MSU Arboretum that winds through the campus.
Built in 1974, Cheever Hall is part of the Creative Arts Complex with its name honoring Hurlburt Cheever, a teacher 1921 - 1965, campus architect and head of the School of Architecture, 1945 - 1961.
Handicapped access to all main doors through the elevator between Haynes and Cheever
Upcoming events in the Cheever Hall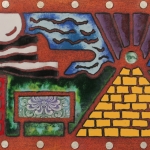 Monetary Bondage an exhibition by Daniel Icaza, in the Helen E. Copeland Gallery at the School of Art in Haynes Hall, October 5-30, 2015. Artist talk on October 8th at 5:30 - 6:30 pm followed by a reception in the Helen E. Copeland Gallery.